ONE-ON-ONE MEETING SCHEDULER
---
Access to the One-on-One Meeting Scheduler is only provided to members who are officially registered and have paid their conference fees.


The Meeting Scheduler is open from now until 21:00 hrs (Bangkok, Thailand Time) on 28 October 2022. Delegates can schedule new meeting appointments or cancel existing ones until 21:00 hrs on 30 October 2022.


During the conference: All delegates will be required to pick up their latest meeting schedule from the onsite registration counter at the meeting venue each morning (29, 30, 31 October 2023) from 09:00 – 10:00 hrs (Bangkok, Thailand Time) (paper version) or they can also use the WCA Meeting App during the conference (paperless).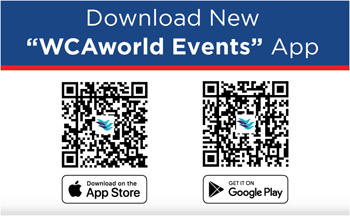 Important
One-on-One Meeting Scheduler will be closed during the following times:
| Date | Scheduler Operating Times |
| --- | --- |
| Now – 28 October 2023 | Operates 24 hrs per day |
| 28 October 2023 (Saturday) | 00:00 – 21:00 hrs (Bangkok, Thailand Time) |
| 29 October 2023 (Sunday) | 09:00 – 21:00 hrs (Bangkok, Thailand Time) |
| 30 October 2023 (Monday) | 09:00 – 21:00 hrs (Bangkok, Thailand Time) |
| 31 October 2023 (Tuesday) | Scheduler Closed (last day of conference) |